The restaurant in Spanish. Let's learn the Spanish vocabulary for when you are at the restaurant.
How to order at a Restaurant? | Phrases in Spanish
courses- platos
first course- entrada
main course- plato principal
dessert- postre
Things the waiter says in Spanish (Cosas que dice el camarero)
What would you like to drink, eat?- ¿Qué te gustaría para beber, comer?
Have you finished?- ¿Ha terminado?
Would you like to order?- ¿Te gustaría ordenar?
Anything else- ¿Algo más?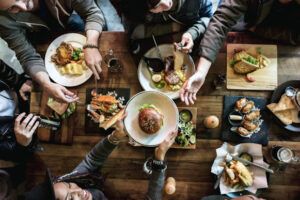 The Spanish potato omelette is very tasty.- La tortilla española es muy rica.
Things you say to the waiter- Cosas que se dice al camarero
Excuse me (to attract the waiter's attention)- Oiga/Permiso
We'd like to order.- Nosotros queremos ordenar
well done, medium, rare- bien hecho, en su punto, poco hecho
What is there for dessert?-¿Qué hay de postre?
Are there any free tables?- ¿Hay algunas mesas libres?
Where are the toilets?- ¿Dónde están los servicios?
Do you have any ……..?- ¿Usted tiene algún …….?
Can I have the bill please?- La cuenta, por favor.
Do you have a table for four people?- ¿Tiene una mesa para cuatro personas?
I have a reservation for Maria.- Tengo una reservación para Maria.
This is not what I ordered.-  Esto no es lo que he pedido.
Can you bring me some more bread?- ¿Me puede traer más pan?
What do you recommend?- ¿Qué me recomienda?
Does this dish have meat in it?- ¿Este plato tiene carne?
How long do we have to wait?-¿Cuánto tiempo tenemos qué esperar?
Does it come with salad?- ¿Viene con ensalada?
Nothing more, thanks.- Nada más, gracias..
Keep the change.- Quédese con el cambio.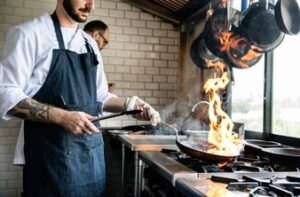 the menu – la carta (note "el menu" means the fixed menu not the list of all available dishes). If you don't want a "menu del dia" ask for "la carta".
a tip –una propina
fixed-price menu – menu del dia (normally you can choose from 3 or 4 options for each course. Bread and a drink are normally included)
It's on me.-¡Te invito yo!
I am a vegetarian-Soy vegetariano/-na.
Enjoy your meal – Buen provecho
Objects in a restaurant (Objetos en un restaurante)
knife, fork, spoon, cutlery- cuchillo, tenedor, cuchara, cubiertos
table- mesa
tablecloth- mantel
salt, pepper- sal, pimienta
chair- silla
dining room- comedor
Sentences with word restaurant in Spanish
| | | |
| --- | --- | --- |
| Nunca he ido a restaurantes. | – | I have never been to restaurants. |
| Adoro los restaurantes. | – | I love restaurants. |
| Los restaurantes tienen excelente servicio. | – | The restaurants have excellent service. |
| Recibí como herencia varios restaurantes. | – | I received several restaurants as an inheritance. |
| Restaurantes es lo que planeo adquirir para expandirme. | – | Restaurants is what I plan to acquire to expand. |
| Firmé contrato con una cadena de restaurantes. | – | I signed a contract with a restaurant chain. |
| En restaurantes comerás las mejores fabadas. | – | In restaurants you will eat the best fabadas. |
| Los hoteles Iberostar cuentan con restaurantes . | – | Iberostar hotels have restaurants. |
| Restaurantes cuentan con servicios de excelencia. | – | Restaurants have excellent services. |
| ¡Cuánto daría por visitar varios restaurantes! | – | How much I would give to visit several restaurants! |
| Esta gira incluye almuerzo en varios restaurantes. | – | This tour includes lunch at various restaurants. |
| Varios restaurantes cerraron por contaminación con salmonellas. | – | Several restaurants closed due to salmonella contamination. |
| Las Bulerías de la Habana es reconocida entre los restaurantes. | – | Las Bulerías de la Habana is recognized among restaurants. |
| Me designaron chef principal de los restaurantes de Cataluña. | – | I was appointed head chef of the restaurants in Catalonia. |
| Hoy comienza el gran juicio contra varios restaurantes. | – | Today begins the big trial against several restaurants. |
| Me deleitan los garbanzos fritos de los restaurantes. | – | I love fried chickpeas from restaurants. |
| Soy representante legal de varios restaurantes. | – | I am the legal representative of several restaurants. |
| Los restaurantes fueron la fuente de ganancia de mi familia. | – | Restaurants were my family's source of income. |
| Todos crecimos y nos formamos entre restaurantes. | – | We all grew up and trained between restaurants. |
| Haré una lista de los restaurantes a los que quiero ir. | – | I'll make a list of the restaurants I want to go to. |
| Soy dueña de una cadena de restaurantes. | – | I own a chain of restaurants. |
| Varios de mis restaurantes están con problemas financieros. | – | Several of my restaurants are in financial trouble. |
| Cerraron toda una cadena de restaurantes por una plaga de ratas. | – | They closed an entire chain of restaurants due to a rat infestation. |
| Últimas noticias: restaurantes clausurados por insalubridad. | – | Latest news: restaurants closed due to unhealthiness. |
| En Cuba abrieron varios restaurantes. | – | Several restaurants opened in Cuba. |
| Invertiré en acciones de la cadena de restaurantes de tu familia. | – | I'll invest in stock in your family's restaurant chain. |
| ¿Cuál de los restaurantes es tu favorito? | – | Which of the restaurants is your favorite? |
| Hice un tour por los restaurantes más reconocidos. | – | I took a tour of the most recognized restaurants. |
| Mi padre ha sido chef de varios restaurantes. | – | My father has been a chef in several restaurants. |
| ¡Qué bien se come en los restaurantes! | – | How well you eat in restaurants! |
Popular Spanish categories to find more words and phrases: