How do you say Olives in Spanish?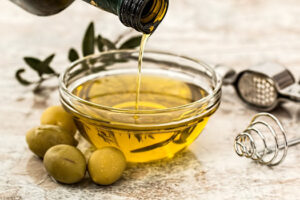 How to translate olives in Spanish? The word Olive describes a small round or oval fruit that is usually savory to taste. Olives comes in two varieties; black and green and are also a great source of oil. The oil produced by olives are very beneficial to ingest or to use topically. It is also known as the small evergreen fruit. 
What does olives mean?
olives – olivos, aceitunas, olivas
Sentences with the word olives in Spanish:
| | | |
| --- | --- | --- |
| Los olivos son árboles que pueden alcanzar quince centímetros de altura. | – | Olive trees are trees that can reach six inches in height. |
| La corteza de los olivos es de color gris. | – | The bark of olive trees is grey. |
| El fruto de los olivos es la aceituna. | – | The fruit of olive trees is the olive. |
| Las flores de los olivos son hermafroditas. | – | Olive flowers are hermaphroditic. |
| Gracias a los olivos obtenemos el muy preciado aceite de oliva. | – | Thanks to the olive trees we obtain the highly prized olive oil. |
| Los olivos son una especie típicamente mediterránea adaptada al clima de la zona. | – | Olive trees are a typically Mediterranean species adapted to the climate of the area. |
| Los olivos son un símbolo ordinario de la paz. | – | Olive trees are an ordinary symbol of peace. |
| ¿Dónde vas a plantar los olivos? | – | Where are you going to plant the olive trees? |
| Los campos de olivos son muy bonitos. | – | The olive groves are very beautiful. |
| Los olivos poseen alrededor de seis subespecies. | – | Olive trees have about six subspecies. |
| No pongas aceitunas en mi ensalada. | – | Don't put olives in my salad. |
| Me encantan las aceitunas. | – | I love olives. |
| Las aceitunas provienen de los olivos. | – | Olives come from olive trees. |
| Compra las aceitunas sin hueso. | – | Buy the pitted olives. |
| En España las aceitunas aliñadas son muy populares como aperitivo. | – | In Spain, seasoned olives are very popular as an aperitif. |
| A mi madre le encantan las aceitunas. | – | My mother loves olives. |
| Ella se atoro con las aceitunas. | – | She choked on the olives. |
| No me gusta agregarle aceitunas a los platos con carne. | – | I don't like to add olives to meat dishes. |
| Prefiero las aceitunas rellenas de pimiento. | – | I prefer the pimento stuffed olives. |
| Me gusta tomar cerveza cuando como aceitunas. | – | I like to drink beer when I eat olives. |
| Las olivas verdes son muy populares en mi país. | – | Green olives are very popular in my country. |
| El sabor de las olivas negras es muy fuerte. | – | The flavor of black olives is very strong. |
| Me gustaría comprar olivas verdes encurtidas. | – | I would like to buy pickled green olives. |
| Están vendiendo distintas variedades de olivas en el mercado. | – | They are selling different varieties of olives in the market. |
| Hay personas que les encanta agregar olivas a la pizza. | – | There are people who love to add olives to pizza. |
| Las olivas poseen propiedades que favorecen la digestión y previenen enfermedades cardiovasculares. | – | Olives have properties that promote digestion and prevent cardiovascular diseases. |
| He probado olivas que poseen un sabor muy dulzón. | – | I have tried olives that have a very sweet taste. |
| Falta comprar las olivas y las almendras. | – | It remains to buy the olives and almonds. |
| No encuentro las olivas negras que compraste ayer. | – | I can't find the black olives you bought yesterday. |
| Pon las olivas a marinar con aceite afrutado y limón. | – | Put the olives to marinate with fruity oil and lemon. |
Popular Spanish categories to find more words and phrases: