How to say ice in Spanish?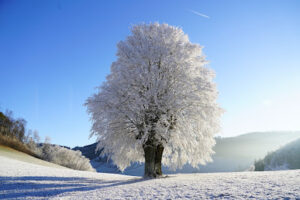 How to translate ice into Spanish? The word Ice in English word which means frozen or solid water. When we freeze water or any liquid at a very low temperature, the solid material obtained is called ice. Ice is also formed on the surface of lakes and oceans when the atmospheric temperature is very low. Water starts to turn into ice at Zero Degree Centigrade. 
How to translate ice in Spanish?
ice – hielo
Conversation:
Nancy: Carlos, cuando vires trae una bolsa de hielo | Carlos, when you come, bring a bag of iceCarlos: Sí, no hay problema | Yes, no problem
Examples:
Dicen que el hielo es frío. – They say that ice is cold.
En Antártica lo que más hay es hielo. – In Antarctica there is most of it is ice.
Hoy vi la película del hombre de hielo. – Today I saw the movie of the ice man.
Su camiseta tiene un hielo impreso. – His shirt has an ice print on it.
El jugo se hizo hielo de tanto tiempo que lo dejamos en la nevera. – The juice became ice so long that we left it in the fridge.
El hielo se derritió en su boca. – The ice melted in his mouth.
Hay que quererse un poco no parecer un hielo.  – You have to love yourself a little not to look like an ice.
El hielo no hace daño. – The ice doesn't hurt.
Hicimos frape con hielo y frutas. – We made a frape with ice and fruit.
¿Dónde venden hielo? – Where do you sell ice?
No me gusta el hielo. – I don't like ice.
Para Halloween me voy a disfrazar de hielo. – For Halloween I'm going to dress up as ice.
Sus zapatos parecen hielo. – His shoes look like ice.
Es muy poco hielo para todo ese refresco. – It's too little ice for all that soda.
Me gusta masticar el hielo. – I like to chew on ice.
En la casa de Susana venden hielo. – At Susana's house they sell ice.
La palabra hielo siempre se escribe con H. – The word ice is always written with H.
La superficie del hielo quema si la aproximas por tiempo prolongado. – The surface of the ice burns if you approach it for a long time.
Quiero una estatua de hielo para adornar mi casa. – I want an ice statue to adorn my house.
Necesito dinero, voy a vender hielo. – I need money, I'm going to sell ice.
No he visto la nieve, dicen que es como gotitas pequeñas de hielo. – I have not seen the snow, they say it is like small droplets of ice.
En la fiesta hacía falta hielo y caminamos muchísimo para buscarlo. – The party needed ice and we walked a lot to find it.
¡Qué sería de la vida sin un trozo de hielo! – What would life be without a piece of ice!
El hielo no lo es todo pero es una parte importante del universo. – Ice is not everything, but it is an important part of the universe.
El patinaje sobre hielo es un deporte. – Ice skating is a sport.
Si, hay hielo en la nevera, te lo regalo. – Yes, there is ice in the fridge, I'll give it to you.
Vió el hielo y le dió miedo, no lo entiendo. – She saw the ice and it scared her, I don't understand.
Me lanzó un pedazo de hielo. – She threw a piece of ice at me.
¿Cuándo se estrena la película del hombre de hielo?  – When is the ice man movie released?
Hallaron huesos de nuestros antepasados en el bloques de hielo en Antártica. – They found bones of our ancestors in the block of ice in Antarctica.
El agua se congela en hielo. – Water freezes into ice.
Tráeme un poco de hielo. – Get me some ice.
¿Necesitas hielo para tu bebida?  – Do you need ice for your drink?
El hielo esta frío . – The ice is cold .
Hay suficiente hielo en el congelador.  – There is enough ice in the freezer.
¿Quieres hielo? . – Do you want ice? .
Una bolsa de hielo cuesta $ 5 . – A bag of ice costs $ 5.
Compra hielo cuando vengas.  – Buy ice when you come.
Ernesto trajo hielo para la nevera . – Ernesto brought ice to the fridge.
El refresco que dejaste en el congelador se convirtió en hielo. – The soda you left in the freezer turned to ice.
Please follow and like us: