Queen in Spanish
Let's find out how to translate queen in Spanish. Reina: It is a term that has its etymological root in the Latin word regīna. "La reina" is the woman who married a king or who, in her own right, is in a position to exercise royal power.
Definition of Queen:
1- "La reina" is the woman who exercises the royal power in her own right, Queen Elizabeth I of England. The queen is the king's wife The king.
Example:
The queen Elizabeth is very powerful – La reina Elizabeth es muy poderosa
2- Queen, can be a woman, an animal, or a thing of the female gender that stands out from the rest of her class or species.
Example:
She is a queen – Ella es una reina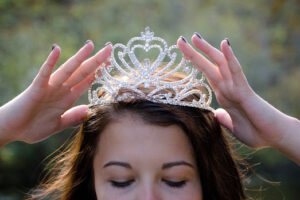 3- The game piece can perform any movement, except that of the horse. In chess, la reina is a piece that can move like any of the other pieces, except the knight. That is why it is considered to be the most relevant piece in the game behind the king.
 Tip: the king = el rey
 4- Games eleventh card of each suit
Example:
With the four queens, she won the poker game. – Con las cuatro reinas ganó la partida de póker.
5- In some animals, it is applied to the fertile female with an eminently reproductive function. La reina bee, on the other hand, is the female bee that, thanks to her fertility, can lay fertilized eggs and unfertilized eggs 
Example:
The queen bee.- La abeja reina.
6- Beyond the monarchy, the woman is known as una reina who, due to certain characteristics, manages to stand out from the others in a certain context and power.
Woman, animal, or thing of the feminine gender that stands out from the others of her class or species. It is also called "reina" in the various contests, where there is a jury that chooses "una reina" from a group of applicants.
Example:
The young woman was chosen as the queen of the carnival of my city . La joven fue elegida como la reina del carnaval de mi ciudad.
Tomorrow the name of the new queen of the Festival will be known – Mañana se conocerá el nombre de la nueva reina del Festival.
Sentences with the word queen in Spanish:
| | | |
| --- | --- | --- |
| Eres una reina. | – | You are a queen. |
| Me encanta la historia de la reina de Escocia. | – | I love the story of the queen of Scots. |
| Tiene los modales de una reina. | – | She has the manners of a queen. |
| ¿Quién se va a disfrazar de reina? | – | Who is going to dress up as a queen? |
| En el juego de ajedrez la reina es mi pieza favorita. | – | In the game of chess the queen is my favorite piece. |
| La felicidad de una reina no dura mucho. | – | A queen's happiness does not last long. |
| En la historia la función principal de una reina era dar a luz a un príncipe. | – | In history the main function of a queen was to give birth to a prince. |
| Ser una reina implica una gran responsabilidad. | – | Being a queen implies a great responsibility. |
| No quiero ser reina. | – | I don't want to be queen. |
| Muchas veces la reina no escuchaba lo que el rey le decía. | – | Many times the queen did not listen to what the king said to her. |
| Eres la reina de las malas decisiones. | – | You are the queen of bad decisions. |
| La reina Isabel es conocida por sus reglas estrictas. | – | Queen Elizabeth is known for her strict rules. |
| Ninguna reina puede gobernar sin el apoyo de un pueblo. | – | No queen can rule without the support of a people. |
| La reina siempre está acompañada de muchos sirvientes. | – | The queen is always accompanied by many servants. |
| Necesitamos un nuevo caballero para la reina. | – | We need a new knight for the queen. |
| La reina está dentro del palacio. | – | The queen is inside the palace. |
| La hermana de la reina murió de una enfermedad. | – | The queen's sister died of an illness. |
| Ganó el juego de ajedrez gracias a que nunca perdió a la reina. | – | She won the chess game because she never lost the queen. |
| Usted es la reina más bella que conozco. | – | You are the most beautiful queen I know. |
| La reina salió a dar un paseo. | – | The queen went out for a walk. |
| Existen distintos soldados que escoltan a la reina. | – | There are different soldiers who escort the queen. |
| Esta joya fue diseñada especialmente para la reina. | – | This jewel was specially designed for the queen. |
| Una reina es como el diamante más preciado de un país. | – | A queen is like the most precious diamond in a country. |
| La reina está reunida con el rey y las princesas. | – | The queen is reunited with the king and the princesses. |
| ¿Cuál de ellas será la próxima reina? | – | Which of them will be the next queen? |
| Ella reina con mano de hierro. | – | She reigns with an iron fist. |
| Elena hará el personaje de reina en la próxima obra de teatro. | – | Elena will play the queen character in the next play. |
| Si el rey muere, gobierna la reina. | – | If the king dies, the queen rules. |
| En esta película la reina muere siendo muy joven. | – | In this film the queen dies at a very young age. |
| La reina no goza de buena salud. | – | The queen is not in good health. |
| | | |
| --- | --- | --- |
| Soy toda una reina. | – | I am quite a queen. |
| Mi perrita se llama Reina. | – | My dog is called Reina. |
| ¡Hola, reina! | – | Hi queen! |
| Mi novio me dice reina. | – | My boyfriend calls me queen. |
| Mi sobrina es mi reina. | – | My niece is my queen. |
| Eres mi reina sin corona. | – | You are my queen without a crown. |
| Mami, siempre serás mi reina. | – | Mommy, you will always be my queen. |
| ¿Sabes quién es la Reina Isabel? | – | Do you know who Queen Elizabeth is? |
| La reina del cuento perdió a su hija. | – | The queen of the story lost her daughter. |
| ¡Eres toda una reina! | – | You are totally a queen! |
| Mi niña juega a ser reina. | – | My girl plays queen. |
| ¿Qué países tienen rey y reina en vez de presidente? | – | What countries have a king and queen instead of a president? |
| ¿Dónde queda la calle Reina? | – | Where is Reina Street? |
| Ando por Reina y Belascoain. | – | I'm going for Reina and Belascoain. |
| Se murió Reina. | – | Queen died. |
| Mi vecina Reina es una chismosa. | – | My neighbor Reina is a gossip. |
| La mamá de Fiona era la reina. | – | Fiona's mom was the queen. |
| Hoy eres princesa, mañana serás reina. | – | Today you are a princess, tomorrow you will be a queen. |
| Mi hija es la reina de mi corazón. | – | My daughter is the queen of my heart. |
| ¿En las cartas gana la reina o el rey? | – | Does the queen or the king win at cards? |
| Me tatué la reina de corazones. | – | I got the queen of hearts tattoo. |
| En los animados de Alicia sale la reina de corazones. | – | In Alice's cartoons, the queen of hearts appears. |
| Todo se hará como lo ordene la reina. | – | Everything will be done as the queen commands. |
| Compré un vestido que me hace lucir como reina. | – | I bought a dress that makes me look like a queen. |
| La reina saldrá hoy del castillo. | – | The queen will leave the castle today. |
| ¿Qué desea la reina? | – | What does the queen want? |
| Iré a ver a la reina. | – | I'll go see the queen. |
| ¡Buenos días, mi reina! | – | Good morning my queen! |
| Este año seré la reina de la clase. | – | This year I will be the queen of the class. |
| Me nombraron "reina del festival". | – | They named me "queen of the festival". |
Please follow and like us: