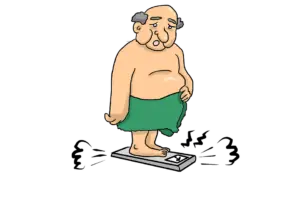 What is the opposite of gordo in Spanish? The word is from the Spanish language which means fat. Fat is a bodily state where a person has gained more body weight than optimal for being healthy. The word fat is also described as the energy stored in the body, when the energy is not utilized it is converted into fat.
Spanish Vocabulary:
gordo  – fat (masculine)
gorda – fat (feminine)
delgado – thin, slim (masculine)
delgada – thin, slim (feminine)
flaco – skinny (masculine)
flaca – skinny (feminine)
engordar, cevar – fatten
What is the opposite of Gordo in Spanish?
The opposite of fat is 'thin, skinny: delgado, flaco'.
Sentences with the opposite of gordo in Spanish
| | | |
| --- | --- | --- |
| Eres muy delgado. | – | You are very thin. |
| ¿Me ves delgado? | – | Do you see me thin? |
| Esa ropa te hace delgado. | – | Those clothes make you skinny. |
| No eres un hombre delgado. | – | You are not a thin man. |
| ¡Qué delgado está ese niño! | – | How skinny is that boy! |
| Te ves delgado. | – | You look slim. |
| Estás más delgado que antes. | – | You are slimmer than before. |
| No quiero ser delgado. | – | I don't want to be skinny. |
| Era muy delgado el señor de enfrente. | – | The man across the street was very thin. |
| Es un bebé delgado para su tiempo. | – | He is a skinny baby for his time. |
| No me gusta que me digan delgado. | – | I don't like being called skinny. |
| Pareces enfermo de lo delgado que estás. | – | You look sick of how skinny you are. |
| Llevas 14 kilogramos menos, estás muy delgado. | – | You carry 14 kilograms less, you are very thin. |
| ¿No ves que estás muy delgado? | – | Can't you see you're too skinny? |
| A mis 15 años era muy delgado. | – | At 15 years old he was very thin. |
| Mi perro se puso flaco. | – | My dog got skinny. |
| Es muy ofensivo que te digan flaco a gritos. | – | It is very offensive to be shouted skinny. |
| Mi novio es flaco y alto. | – | My boyfriend is skinny and tall. |
| ¿Crees que me veo flaco? | – | Do you think I look skinny? |
| Desde que te conozco eres súper flaco. | – | Ever since I've known you, you're super skinny. |
| Come más, estás muy flaco. | – | Eat more, you are very skinny. |
| Debes engordar un poco, te ves flaco. | – | You must put on a little weight, you look skinny. |
| ¡Qué animal más flaco! | – | What a skinny animal! |
| Ese gatito me da lástima, está muy flaco. | – | I feel sorry for that kitten, he is very skinny. |
| Pesas 10 kilogramos, eres flaco. | – | You weigh 10 kilograms, you are skinny. |
| No te veo tan flaco como dicen. | – | I don't see you as skinny as they say. |
| La gente es exagerada, tú no estás flaco. | – | People are exaggerated, you are not skinny. |
| ¿Quieres ser flaco? | – | Do you want to be skinny? |
| Miguel es muy flaco. | – | Miguel is very skinny. |
| Por culpa del cigarro estás flaco. | – | Because of the cigarette you are skinny. |
Sentences with the word gordo(a)
| | | |
| --- | --- | --- |
| ¡Qué gordo estás! | – | How fat are you? |
| Yo no soy gordo. | – | Im not fat. |
| Él es muy gordo. | – | He is very fat. |
| Te ves gordo. | – | you look fat |
| Ese espejo me hace ver gordo. | – | That mirror makes me look fat. |
| ¿Me ves gordo? | – | Do you see me fat? |
| No quiero que me digan gordo. | – | I don't want to be called fat. |
| Luces más gordo que antes. | – | You look fatter than before. |
| ¿Quién es ese gordo? | – | Who is that fat man? |
| Me hacen burla por gordo. | – | They make fun of me for being fat. |
| Soy gordo porque estoy enfermo. | – | I am fat because I am sick. |
| Eres tan gordo que no te podemos cargar. | – | You're so fat we can't carry you. |
| ¿Me ves más gordo que antes? | – | Do you see me fatter than before? |
| Harás dieta porque estás muy gordo. | – | You will go on a diet because you are very fat. |
| Mi papá es gordo. | – | My dad is overweight. |
| Gracias a tanto dulce estoy gordo. | – | Thanks to so much sweet I'm fat. |
| Me operaré para no verme tan gordo. | – | I'm going to have surgery so I don't look so fat. |
| Con la operación dejé de ser gordo. | – | With the operation I stopped being fat. |
| Soy tan gordo que no entro por la puerta del carro. | – | I'm so fat I can't get in through the car door. |
| Eres viejo y gordo. | – | You are old and fat. |
| Mi novio se puso gordo cuando se mudó conmigo. | – | My boyfriend got fat when he moved in with me. |
| ¡Qué bebé más gordo! | – | What a fat baby! |
| Eres gordo pero no llegas a obeso. | – | You are fat but not obese. |
| Ese niño nació gordo. | – | That boy was born fat. |
| Pagaré una fortuna para dejar de ser gordo. | – | I'll pay a fortune to stop being fat. |
| De joven fui muy gordo. | – | When I was young I was very fat. |
| Te diré algo, estás gordo. | – | I'll tell you what, you're fat. |
| Mamá dice que estoy gordo. | – | Mom says I'm fat. |
| Me enamoré de un gordo. | – | I fell in love with a fat man. |
| A los 30 años me puse así de gordo. | – | At 30 years old I got this fat. |
| Ella es gorda. | – | She's fat. |
| Marco está gordo. | – | Marco is fat. |
| Tú eres más gorda que yo. | – | You are fatter than me. |
| En la familia todos somos gordos. | – | In the family we are all fat. |
| Mi mamá es gorda y bella. | – | My mom is fat and beautiful. |
| Estás muy gorda. | – | You are so fat. |
| Carlos está muy gordo. | – | Carlos is very fat. |
| Yo estaba más gorda. | – | I was fatter. |
| Si sigues comiendo, vas a estar más gordo. | – | If you keep eating, you're going to get fatter. |
| Vas a engordar mucho. | – | You will gain a lot of weight. |
| Antes estaba muy gordo, pero ahora estoy delgado. | – | Before I was very fat, but now I am skinny. |
Please follow and like us: