What are the best free online language translators?
What are the 13 most popular online languages translators?. The term translation or translate is familiar to everyone, but many are unaware of the difference between translation and interpretation. The first thing that comes to mind is a translator or interpreter at a conference with a speaker from another language. It is important to understand what translation is and its significance. The profession of the translator has been practiced since the times of Mesopotamia and ancient Egypt. In this article, I want to talk about what is the use of this ancient activity, and how it benefits us.
Imagine that you speak Spanish and you want to study in the United States and you need to submit your qualifications to an institution. You will need the services of a translator (traductor) because you will have to translate your documents from Spanish to English, the same will happen when you need to translate English to Spanish or another language. Part of a translator's job (el trabajo del traductor) is to translate legal documents that will help you study or work in other countries. Translators also translate books, newspapers, films into other languages. Translators are very important for the globalized culture in which we live nowadays.
Today, translation is present in practically a variety of forms in our environment. From movies, webs, music, newspapers, and books we have all been exposed to some type of translated material. However, we do not realize the importance of translation in our lives and the development of culture.
Translate | Definition of translation
The translation is an activity that involves interpreting the meaning of any text in one language (the so-called source text) to another equivalent text in another language (called the target text). The product of this activity, the target text, is also called a translation.
Traditionally, translation has been developed by people, although there are numerous attempts to automate the translation of natural texts (machine translation) or to use computers to assist in translation (computer-assisted translation). Assisted translation can consist, for example, of the use of a translation memory.
The objective of the translation is to create an equivalence relationship between the original text and the final text, that is, the assurance that both texts communicate the same idea or message while taking into account aspects such as textual gender, the context, the grammatical rules of each of the languages, the stylistic conventions, the phraseology, etc.
It is essential to differentiate translation from interpretation: In the first case, ideas expressed in writing are transferred from one language to another, in the other, ideas are expressed orally or through gestures (as in sign language) of a language to another.
Based on the analysis of the processes involved in translation and interpretation, the latter could be considered to be a subcategory of translation.
The first translations were of the Bible, since the Jews had not spoken their language (Hebrew) for a long time, it was lost and the Holy Scriptures had to be translated so that they could be understood by Jews who did not speak the original language. Ptolemy Philadelphus in the third century BC had the Holy Scriptures translated from Hebrew into Greek by 72 sages who were fluent in both Hebrew and Greek. This version is known as the Alexandrian version. In the 2nd century AD a translation of the Bible was made into Latin (Old and New Testaments). This version received the name of "Vetus Latina".
What are the best Online Languages Translators?
Get to know the main free translators to consult any text online, simply copy or paste the text you want to be translated or write the text in the language you want and you will see the simultaneous translation instantly.
This 23-language translator allows you to translate 160 characters and 2,000 words a day at the same time, completely free of charge. In addition to the written translation function, it has a large dictionary in American and British English, so you can make the necessary queries.
In addition, on its page, you can find access to the official Cambridge exams of all levels and free resources to learn English.
Perhaps one of the best known, the Google translator works with around 100 languages ​​that you can translate using text, voice dictation, or images. Apart from translating on the web, there is its application so that you can take it on your smartphone and consult it at any time.
This is how Google Translate works simultaneously. The limit of words that you can translate in Google Translate is 5000 characters.
How do you use the DeepL?
This online translator works with the languages ​​Spanish, English, German, French, Portuguese, Italian, Dutch, Polish, and Russian, with great effectiveness in translation, at the same time as with a fast speed when transforming texts. In addition, he is known for his ability to perform 72 language combinations, so you can translate as many language combinations as you want, translate  English to Spanish, Spanish to English, English to French, and so on.
Deepl also has a limitation of 5000 characters, however, you can make a premium version to be able to access the instant translation without limits.
Why is it called the Collins dictionary?
4- Collins Dictionary Translator
Another great acquaintance is the translator, named after its founder, William Collins. It differs from the rest since it has a section on top-level English synonyms, and has several translation sections for grammar and bilingual dictionaries. The languages ​​in which texts can be translated to Spanish, French, Italian, German, Portuguese and Mandarin, Chinese, and Hindi, among others.
How does Babylon Translator work?
Babylon can translate single words, complete sentences, texts, in about 77 languages. It also has different sections where you will find 1,700 dictionaries, glossaries, thesauri, and encyclopedias.
It works both online and offline and has been designed with OCR technology, that is, it has an optical character recognition system that allows the texts in scanned documents or PDF files to be identified and translated automatically.
Is Bing Translator the same as Microsoft Translator?
This translator, provided by Microsoft, is one of the best known. With it, you can translate texts and even entire web pages. To do this, the option to automatically translate the web page you are consulting appears in the search results, in just a few seconds you will be able to read it in the chosen language.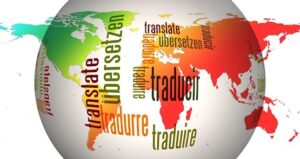 Keep in mind that this translator translates 500 words available to you for free. Which can be extracted from texts, websites, documents, and even emails. The total number of languages ​​that the platform's qualified native translators can translate is 141.
8- The World Translation Center
One of the also best known is this translator belonging to the printed newspaper, for which he receives his name. Although the number of languages ​​to be translated is not many: English, Spanish, French, German, Italian, and Portuguese, this translator stands out for its grammatical quality.
How many languages are there in WordReference?
9- Wordreference | Online Languages Translators
You may also be familiar with this translator, known for its dictionaries, which can translate into 17 different languages. This tool has the translation of verbs, terms, grammar, and synonyms.
This multilingual translation service of Russian origin allows you to translate texts into up to 95 languages. It also offers additional functions (also free) such as the translation of audios, images, documents, videos, or web pages. It has an option ('collections') in which it is possible to store all the translations that have been made on its website.
11- IM Translator
This free online translator combines the translations of different online services to offer more refined results. It will also incorporate a dictionary and text-to-speech function (reads written text aloud), among other interesting aspects. Against it, the web is a bit confusing.
12- Lexicool Translator
This online translator brings together Google, Microsoft, Yandex, Reverso, and Systran to be able to translate the text with the technology of any of them. You just have to select the original and final language, enter the desired phrase, and press Translate. A new tab will open with the text created by each of the free online English Spanish Translators, allowing you to compare the different options and choose the most appropriate one.
What is Tradukka and how does it work?
13- Tradukka Translator
This website performs automatic translation in real-time, that is, as the text is entered, the final result is adapted. It has about 44 languages ​​to work with and allows you to listen to the resulting text to also train your pronunciation. Your app has an interesting voice recognition feature that allows you to carry out an automatic translation of the phrases just by dictating them.
Popular Spanish categories to find more words and phrases: