Where can you learn Spanish fast?
If you live in the United States, then you know how fast our Hispanic population is growing. For many jobs, it is important to be able to speak both Spanish and English to communicate with your companies customers. If you do not speak Spanish and you are thinking that it just is not going to happen, you should not give up; it is surprisingly easy to learn Spanish if you have the right site to help you learn and you will find that Learn Spanish Fast is the right site for you.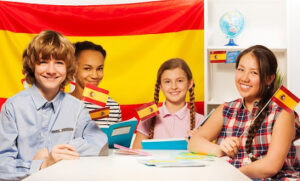 Work might not be the only reason that you want to learn Spanish. Perhaps you are planning a trip to Mexico or Puerto Rico, either way, it will show the people of those countries how much you respect them if you take the time to learn how to speak their language.
Conversational Spanish will help you best if you are planning to travel and with Learn Spanish Fast you will learn how to speak conversational Spanish in just a few short days. Won't it be nice to introduce yourself, say hello correctly, learn how to address people, or even ask directions if you need to while you are visiting a Hispanic country?
If you have a child in school taking Spanish, statistics show that public school language courses do a poor job of educating our children in foreign languages. It is not because the teachers are incompetent, but because it is much more challenging to learn a foreign language with dozens of other struggling students than in a one on one situation. Learn Spanish Fast allow your child to get the one on one attention they need to learn, and what's more, they will probably be well ahead of the other children in their classroom.
Of course, another excellent reason to learn Spanish is that you have Hispanic friends. Even if they speak English, imagine what a compliment it will be for them that you have taken the time to learn their language and talk to them in it. If they are immigrants then in all likelihood they struggled to learn to speak English, it will be touching for them to know that you care enough to make the same effort, except it won't be an effort with Learn Spanish Fast.
Please follow and like us: