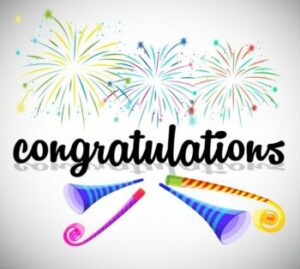 How to translate 'congratulations' in Spanish?
congratulations- felicidades
Examples:
Felicidades amigos.
Felicidades a todos los estudiantes.
Mis felicidades para ti.
Papi, muchas felicidades en tu día.
Felicidades al equipo de baloncesto.
Y felicidades por tu victoria.
Muchas felicidades por tu cumpleaños.
Felicidades por ganar la competencia.
Marcos, muchas felicidades para ti.
Felicidades Carla, por los buenos resultados.
No fue fácil, pero lo lograste, felicidades.
Muchas felicidades Mirta valió la pena.
Muchas felicidades por el nacimiento de tu hijo.
Marta, muchas felicidades, lo lograste.
Felicidades en este día de los enamorados.
Enhorabuena, felicidades, lo venciste.
Hola mamá, muchas felicidades en tu día.
Felicidades en tu presentación.
English
Congratulations friends.
Congratulations to all the students.
My congratulations to you.
Daddy, congratulations on your day.
Congratulations to the basketball team.
And congratulations on your victory.
Congratulations on your birthday.
Congratulations on winning the competition.
Marcos, congratulations to you.
Congratulations Carla, for the good results.
It wasn't easy, but you did it, congratulations.
Congratulations Mirta it was worth it.
Congratulations on the birth of your child.
Marta, congratulations, you did it.
Congratulations on this Valentine's Day.
Congratulations, congratulations, you beat it.
Hello mom, congratulations on your day.
Congratulations on your presentation.