Starbucks Drinks Flashcards in Spanish and English
¿Cómo se dice Starbucks drinks en español? Starbucks drinks in Spanish translation: bebidas de Starbucks.
How to translate the Starbucks drinks flashcards into Spanish? and more. Learn basic vocabulary in Spanish with flashcards. Study the Spanish language with pictures. English to Spanish translation.
agua mineral – mineral water
batido – milkshake
batido de frutas – fruit shake
cerveza – beer
cerveza embotellada – bottled beer
cerveza negra – stout
champán – champagne
gaseosa – soda
limonada – lemonade
jugo de uva – grape juice
jugo de naranja – orange juice
refresco – soft drink
cidra – cider
chocolate – chocolate
té de manzanilla – chamomile tea
leche – milk
té – tea
té de menta – mint tea
ron – rum
tequila – tequila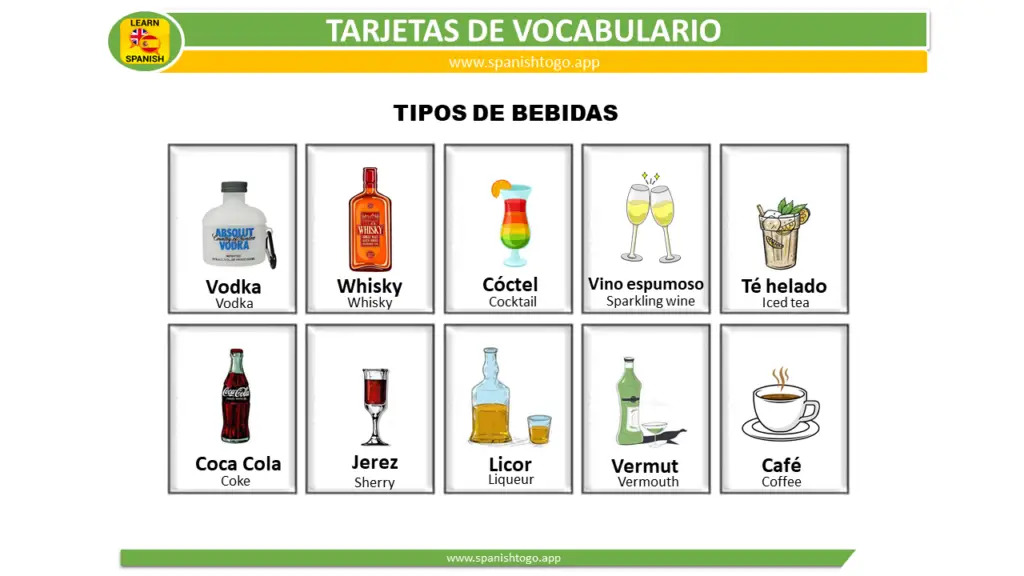 vodka – vodka
whisky – whisky
cóctel – cocktail
vino espumoso – sparkling wine
té helado – iced tea
coca cola – coke
jerez – sherry
licor – liqueur
vermut – vermouth
café – coffee
Please follow and like us: