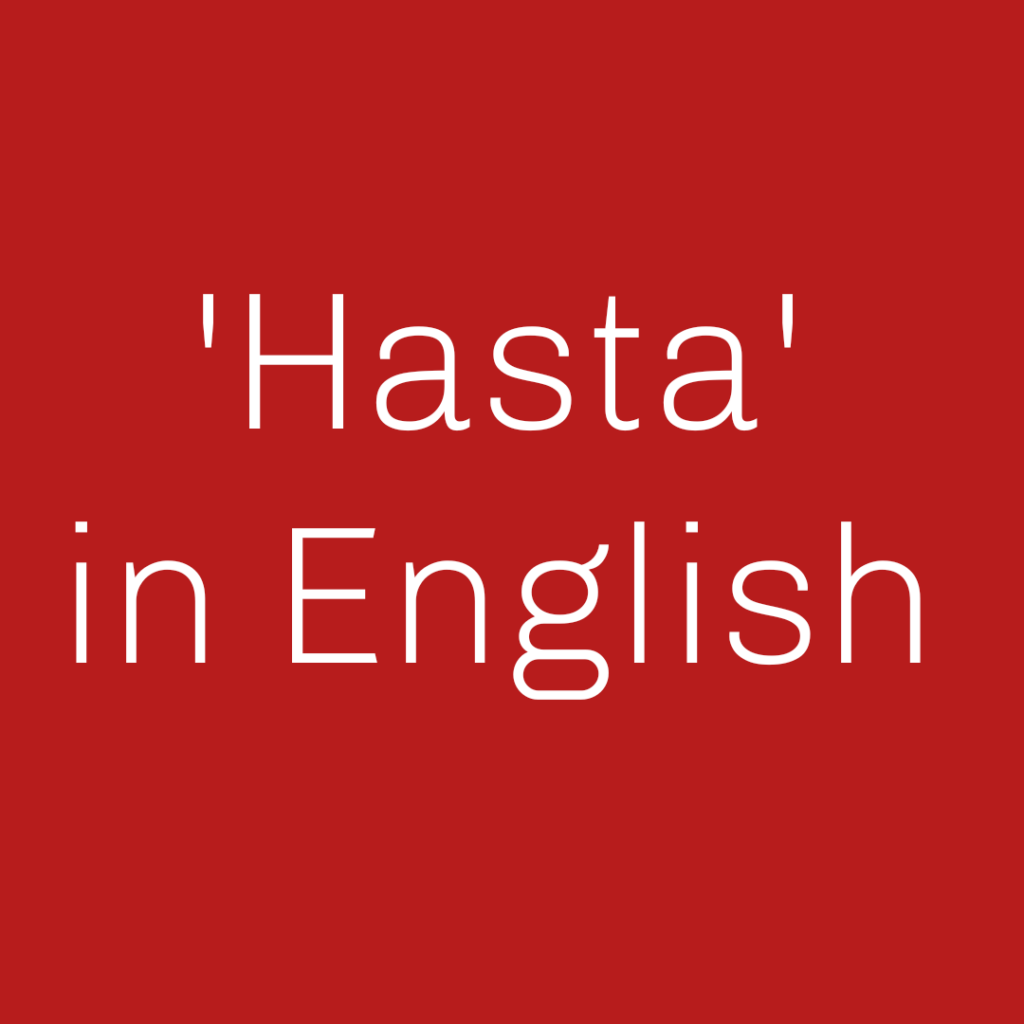 How to say hasta in English?
The Spanish word "hasta" can be translated to English in different ways depending on the context.
Here are some of the most common translations of "hasta" into English:
"Until" or "Till" Example: "No puedo quedarme hasta tarde" – "I can't stay until/till late"
"Up to" Example: "Podemos aceptar grupos de hasta 10 personas" – "We can accept groups of up to 10 people"
"As far as" Example: "Hasta donde yo sé, ella vive en Madrid" – "As far as I know, she lives in Madrid"
"Even" Example: "No me gusta ni siquiera hasta un poco" – "I don't even like it a little bit"
"See you" or "Goodbye" (as part of a farewell expression) Example: "Hasta luego" – "See you later" or "Hasta la vista" – "Goodbye"
It's important to note that "hasta" is a versatile word that can have different meanings depending on the context.
Preposition
to- a, para, en, hasta, por, hacia
until – hasta
till – hasta
through – por, mediante, por medio de, hasta, gracias a, a través de
as far as – hasta, para
unto – hasta, hacia
pending – hasta, durante
Adverb
up -arriba, para arriba, hacia arriba, en lo alto, en el aire, hasta
even – incluso, aún, hasta, con
through – hasta, completamente, hasta el fin, de parte a parte, desde el principio hasta el fin, de un lado a otro
1- 'Hasta' indicates the level at which something has been achieved.
The water is up to my knees. – El agua me llega hasta las rodillas.
The pain reaches my hand. – El dolor me llega hasta la mano.
The fire got here. – El fuego llegó hasta aquí.
The earthquake reached here. – El terremoto llegó hasta aquí.
The rain came here. – La lluvia llegó hasta aquí.
2- 'Hasta' in negative sentences, indicating the change of the expressed action.
I can't cook until the gas comes. – No puedo cocinar hasta que llegue el gas.
I had no money until I started working. – No tuve dinero hasta que comencé a trabajar.
Pedro, I didn't want to finish it until you arrived. – Pedro, no quise terminarlo hasta que llegaras tú.
I won't do my hair until you do. – No me arreglaré el pelo hasta que tú lo hagas.
We won't have dinner until you arrive. – No cenaremos, hasta que llegues tú.
3- 'Hasta' (goodbye) is used to say goodbye to someone.
See you soon friend. – Hasta pronto amigo.
Carlos, see you later. – Carlos, hasta luego.
See you later. – Hasta la vista.
Until next time. – Hasta la próxima.
4- 'Hasta' (even) is used to indicate that something is included in the described situation, even if it is surprising or unexpected.
Even the second house was his. – Hasta la segunda casa era de él
Even the food is hot. -Hasta la comida está caliente.
Pedro, even the car was broken. – Pedro, hasta el carro estaba roto.
Even the streets were full of cars. – Hasta las calles estaban llenas de carro.
Even Marta was his student. – Hasta Marta fue su estudiante.
5- 'Hasta' (even) is used to indicate that something also happens in the situation that is expressed, even if it is surprising or it is expected that it is not.
It's hot even after the rain. – Hace calor incluso después de la lluvia.
She arrives even after the problem. – Ella llegá incluso después del problema.
6- 'Hasta' is used to introduce a hypothetical situation that is not an impediment to what is expressed.
Even with my eyes open, I dreamed it. – Incluso con los ojos abiertos lo soñé.
Even with my hands closed, I received a hug from him. – Incluso con las manos cerrados, recibí su abrazo.
Even with a cool mind, I could think of you. – Incluso con la mente fría, pude pensar en tí.
7- 'Hasta' (until) indicates the moment when the action starts or something will happen.
The teacher doesn't come until eight. – La profesora no llega hasta las ocho.
The doctor doesn't arrive until eleven. – El doctor no llega hasta las once.
Students don't arrive until seven. – Los estudiantes no llegan hasta las siete.
Packages will not arrive until the afternoon. – Los paquetes no van a llegar hasta por la tarde.
My wife won't come until after work. – Mi esposa no vendrá hasta después del trabajo.
Votar in Spanish | Translation – SpanishtoGo
Asesinadas
Jovencita in Spanish
Popular Spanish categories to find more words and phrases: